Ardagh Metal Packaging and Crown Holdings Sponsor First Global Aluminium Can Sustainability Summit in Partnership with Can Manufacturers Institute and International Aluminium Institute
The Summit will bring together more than 100 leaders across the aluminum beverage can value chain with a focus on decarbonization of aluminum production and global standardization of measuring recycled content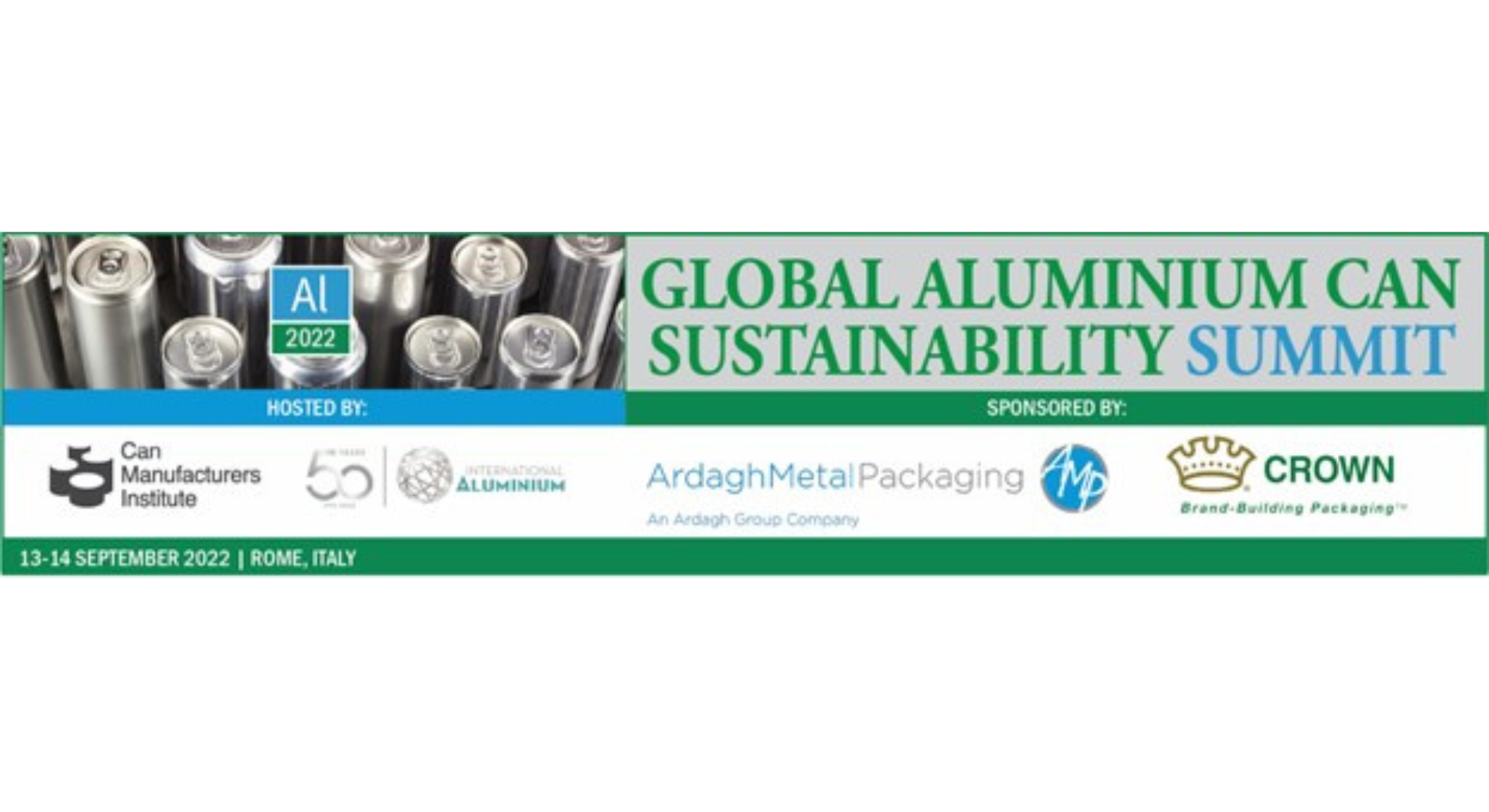 Monday, September 12, 2022
ROME, ITALY – September 12, 2022 – The Global Aluminium Can Sustainability Summit, September 13-14, in Rome, Italy, brings together more than 100 leaders from organizations globally across the aluminum beverage can value chain to operationalize the decarbonization of aluminum produced for can sheet and generate transparent information on recycling and circularity including how to measure recycled content in beverage cans.
The can manufacturers Ardagh Metal Packaging and Crown Holdings conceived of and sponsored this first of its kind event to build on the aluminum beverage can's already-leading sustainability performance to meet the ambitious sustainability goals of Ardagh, Crown, their customers and others along the aluminum beverage can value chain. The event is organized in partnership with Can Manufacturers Institute, which represents U.S. metal can manufacturers and their suppliers, and International Aluminium Institute, which represents the global primary aluminum industry.
Demand for the aluminum beverage can is growing as consumers place a premium on sustainability factors in their purchasing decisions. The beverage can's sustainability advantages provide environmentally conscious consumers with a package that is made of a material that recycles forever, more than pays for its own cost of recycling, and is capable of being recycled into the same product infinitely. The Summit will advance efforts to strengthen the beverage can's sustainability performance, further cementing the can as the most sustainable, circular beverage package.
Summit speakers include executives and thought leaders from inside and outside the aluminum beverage can industry. Speakers within the industry include CEOs of leading aluminum beverage can sheet suppliers and the can manufacturers Ardagh and Crown. Outside of the can industry, speakers include representatives from Energy Transitions Commission, McKinsey and Science Based Targets, as well as the financial institutions Citi, Deutsche Bank and Federated Hermes. In addition, Laura Thompson of the environmental nonprofit GreenBlue will present her initial findings on how to standardize the measurement of recycled content in aluminum beverage cans that is in accordance with international standards.
"The aluminum beverage can is the most recycled beverage container in the world, and these high levels of recycling mean significant carbon savings since processing recycled aluminum utilizes around 5 percent of the energy needed to mine and produce new aluminum," said Jennifer Cumbee, chief sustainability officer, Ardagh Metal Packaging. "This Summit will help further mobilize our industry toward decarbonization and increased recycled content levels, further positioning the beverage can as the leader in sustainability excellence." 
Aluminum beverage cans manufactured in North America currently have an average of 73 percent recycled content. The Aluminum Association and CMI have transparently reported annually this recycled content industry-average and its methodology including most recently in the 2021 aluminum beverage can sustainability key performance indicators report.
"An aluminum beverage can with higher recycled content has a lower carbon footprint," said John Rost, global sustainability and regulatory affairs, Crown Holdings. "As a result, there is increased interest globally, from consumers to customers to legislators, in the amount of recycled content in beverage packaging. So, in addition to discussing decarbonization processes, another key focus of the Summit is to ensure global standardization on how the industry calculates recycled content in aluminum beverage cans. These steps are indicative of our industry's focus on supporting our customer's sustainability platforms and being a leading example of a circular economy." 
For those interested in more information about the invitation-only Summit, visit cancentral.com/GlobalAluminiumSummit or contact Scott Breen, CMI's vice president of sustainability, at sbreen@cancentral.com. 
About CMI. The Can Manufacturers Institute (CMI) is the national trade association of the metal can manufacturing industry and its suppliers in the United States. The can industry accounts for the annual domestic production of approximately 130.7 billion food, beverage and general line cans; employs more than 28,000 people with plants in 33 states, Puerto Rico and American Samoa; and generates about $15.7 billion in direct economic activity. CMI members are committed to providing safe, nutritious and refreshing canned food and beverages to consumers in the most sustainable packaging.
About The International Aluminium Institute. The International Aluminium Institute (IAI) is the only body representing the global primary aluminium industry. The Institute has the most comprehensive global data on Aluminium with more than 50 years of analysis on production, consumption, energy use and environmental impact. For more information, visit international-aluminium.org, or connect with us on LinkedIn or Twitter.
Contact: Sherrie Rosenblatt, Can Manufacturers Institute (E-mail:  srosenblatt@cancentral.com; Phone: 202-232-4677) | Adisa Amanor-Wilks, International Aluminum Association (E-mail:  media@international-aluminium.org)