Boosting Aluminum Can Recycling Rates in Europe and Beyond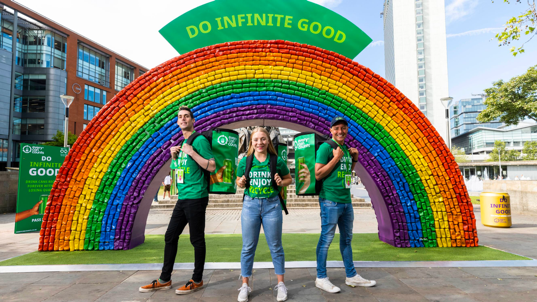 Our commitment to strengthening the Circular Economy is illustrated by several goals in our Twentyby30 sustainability program, including increasing metal recycling rates in all our major markets. Ambitious targets have been set, from a 70% recycling rate in the U.S. by 2030, to 80% in EMEA in the same timeframe. 
We are collaborating with industry associations and other partners around the globe to achieve our goals. For example, together with other canmakers and aluminum suppliers, we are working closely with Every Can Counts (ECC) – an initiative to promote recyclability of metal containers among consumers. 
On June 3-5, ECC is organizing the second International Recycling Tour across Europe to coincide with World Environment Day (June 5). Through a series of local events, activities and social media engagements, the event will promote the infinite recyclability of metal cans by encouraging consumers to 'keep the cycle going' and to recycle as much as they can while away from home or on-the-go. Awareness is everything, and the campaign is closely linked to the idea that more recycling bins should be made available in public spaces across the continent. According to a survey performed in 14 European countries by the LUCID polling agency in association with ECC, a staggering 93% of Europeans shared this view.
ECC representatives will be highly visible on the tour, appearing in public spaces with custom-made backpacks to enable people to recycle empty beverage cans and share the message that metal recycles forever. In 2021, that same message was delivered in the press, on national TV channels and through a wide variety of influencer and user-generated content. Features such as the ECC Rainbow, Pixelata displays, heart-shaped recycling bins and other creative solutions were also implemented to drive awareness. The campaign achieved a combined media and social media reach of over 6 million people; the goal is to surpass this figure in 2022.
It is not too late to actively participate in the ECC International Recycling Tour 2022. Those interested can take part in scheduled events or organize their own activations. 
Our relationship with ECC extends into Brazil, where the ECC Recycling Tour Event is taking place on June 4-5. Called Cada Lata Conta (Portuguese for "Every Can Counts) and led by Abralatas, the new regional campaign will utilize public education and other activities to transform the way consumers think about recycling beverage cans. The goal? To build on the progress of Brazil's already-impressive recycling rates, which have remained above 95% for over 15 years. 
Finally, in the U.S, we are focusing on improving process and performance at local recycling centers. In 2021, we worked the Can Manufacturers Institute (CMI) and The Recycling Partnership to help fund five can capture equipment grants that allow material recovery facilities (MRFs) to more effectively separate used beverage cans (UBCs) from other recyclables and divert them from landfills. As a result of our teamwork, an additional 71 million aluminum cans will be recycled annually, totaling over $1.15 million in revenue for the U.S. recycling system. To put it into perspective: the energy savings from those results could power more than 28 million American homes for one hour.
The aluminum beverage can is already the world's most recycled beverage package. But we believe that more can be done and our best chance at making a more circular, sustainable future a reality will come from the whole value chain working together. We are proud to count organizations like ECC and CMI among our partners.