Breast Cancer Awareness Month and the Power of Early Detection
Thursday, October 13, 2022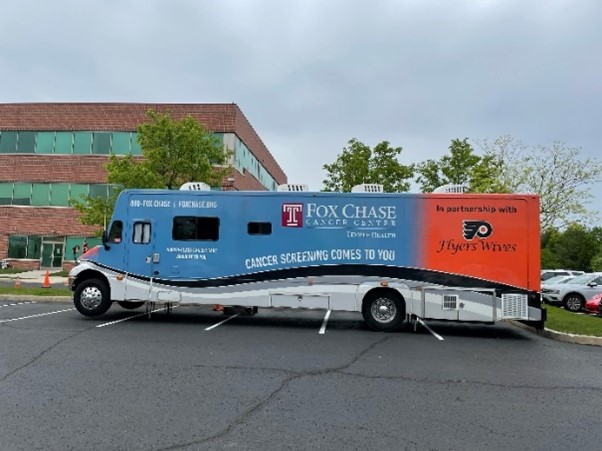 October marks the observance of National Breast Cancer Awareness month, a time dedicated to raising awareness about the impact of the disease and supporting those affected by it. 
Breast cancer is the second most common cancer among women, with one in eight women diagnosed within their lifetime. However, research has found that by diagnosing breast cancer early, the five-year relative survival rate is 99%1.  Beginning at age 40, women are encouraged to schedule annual screening tests, such as mammograms or ultrasounds. While these services cannot prevent breast cancer, they can assist with early detection of any warning signs or abnormalities and make a life-saving difference for women.
This is why we regularly work with the Fox Chase Cancer Center of Philadelphia to provide on-site mammograms for our employees. The mobile Mammography Screening Unit has visited our headquarters in Yardley, PA for nearly 20 years, first arriving in 2004. Since then, Fox Chase Cancer Center has completed more than 800 mammograms, helping our workforce take proactive steps toward maintaining their well-being. 
Our employees' health and welfare are foundational values at Crown – core beliefs demonstrated through the Working Together pillar of our Twentyby30 program. Offering accessible preventative healthcare services, such as the wellness fairs we hold annually at our plants to administer flu shots, blood tests and blood pressure checks to employees and their spouses, is a vital way to take action and give our team helpful resources. For breast cancer in particular, this proactivity can enable early detection, which can make all the difference in combatting the disease and reaching remission. 
We look forward to continuing these efforts and to seeing the mobile Mammography Screen Unit return again next May. Timed in conjunction with National Women's Health Week, the service will honor National Breast Cancer Awareness Month "early" and provide convenient, early detection screening methods for our employees.
---
1https://www.nationalbreastcancer.org/early-detection-of-breast-cancer/