Crown Partners with Former Shark Tank Contestant Victoria's Kitchen To Win Gold in 2015 Global Packaging Design Awards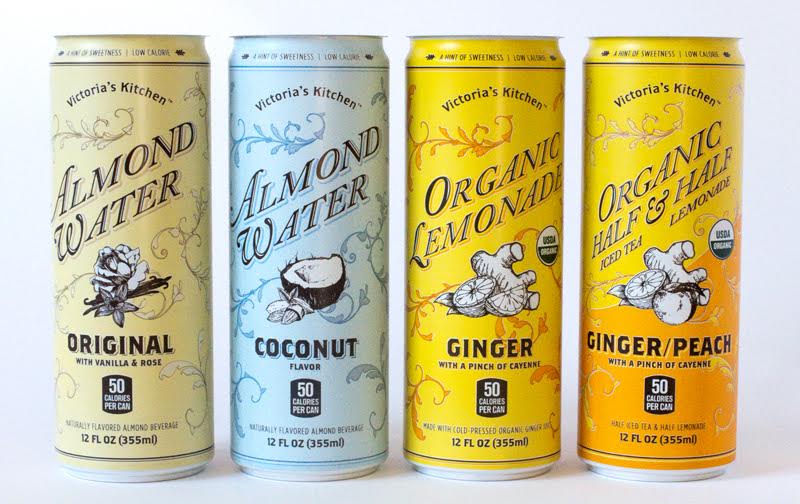 Friday, December 18, 2015
A new line of 50-calorie beverages from Victoria's Kitchen, inspired by traditional and artisanal European recipes, has won major recognition for its matte finish, 12-ounce sleek styled cans by CROWN Beverage Packaging North America. The Victoria's Kitchen cans were named a Gold Award winner in the Liquid Refreshment category of Beverage World's 2015 Global Packaging Design Awards.  Entries were judged on graphic design, innovation, and structural design. Judges noted that "Like the industry they are a part of, their designs are a playful mix and incorporate elements of both history and fresh new originality."
The Victoria's Kitchen line has already been successful in bottles bearing the European-inspired vintage packaging designs. Crown's sleek-line 12-ounce cans deliver a smaller serving size and feature a matte finish that draw attention to the graphic designs, which were developed by QNY Creative (New York, NY). The 50-calorie drinks are available in four flavors: Almond Water Original, Almond Water Coconut, Organic Ginger Lemonade, and Organic Peach Ginger Lemonade Tea.
According to Victoria's Kitchen owner, David Meniane, "Our beverages are meant to be enjoyed ice cold or combined with favorite spirits for one-of-a-kind cocktails. Our brand features imaginative blends of healthful natural ingredients and enjoyable flavors. And our packaging successfully conveys the way our specialty drinks transport everyone who drinks them."
"It is very rewarding to support Victoria's Kitchen in winning this major industry award," notes Ron Skotleski, Director of Marketing, CROWN Beverage Packaging North America.  "Our team works very hard to partner with our customers, meet their vision, and create a truly unique, differentiating package."
About Victoria's Kitchen
Victoria's Kitchen is a specialty beverage company that makes exceptional European-inspired drinks. Their beverages are delicious, refreshing, and come with clean and easy-to-read ingredients. They are also Gluten-Free, GMO-Free, Dairy-Free, Vegan, and contain no artificial ingredients or preservatives.
Founded in 2011, Victoria's Kitchen is a family company that will never use High Fructose Corn Syrup, Aspartame, Dextrose, Artificial Colors, or anything else consumers can't pronounce. 
For more information, contact:
David Meniane, Owner, Victoria's Kitchen;  Tel: 1 (310) 926-7884
About Crown Holdings, Inc.
Headquartered in Philadelphia, PA, Crown Holdings, Inc. is a leading manufacturer of packaging products for consumer marketing companies around the world. Crown makes a wide range of metal packaging for food, beverage, household and personal care and industrial products and metal vacuum closures and caps.  As of December 31, 2014, the Company operated 149 plants located in 40 countries, employing 23,024 people.  For more information, visit www.crowncork.com.
For more information, contact:
In the United States: Ron Skotleski, Director of Marketing; Tel: 1 (215) 718-1303; Email: ron.skotleski@crowncork.com
In Europe: Matt Twiss, Marketing & Business Development Director; Tel: +41 41 759 10 02; Email: matthew.twiss@eur.crowncork.com
In South America: Wilmar Arinelli, President, CROWN Embalagens Metálicas da Amazônia S.A.; Tel: 55 11 4529 1006; Email: wilmar.arinelli@crowncork.com.br
In Asia Pacific: Evelyn Lim, Assistant to the President CROWN Asia-Pacific Holdings Ltd; Tel: 65 6229-4880; Email: evelyn.lim@crowncork.com.sg
For editorial inquiries: Thomas T. Fischer, Vice President, Investor Relations and Corporate Affairs; Tel: 1 (215) 552-3720; Email: thomas.fischer@crowncork.com