Every Can Counts Survey Results: Two in Three European Consumers Believe More Should Be Done to Encourage Recycling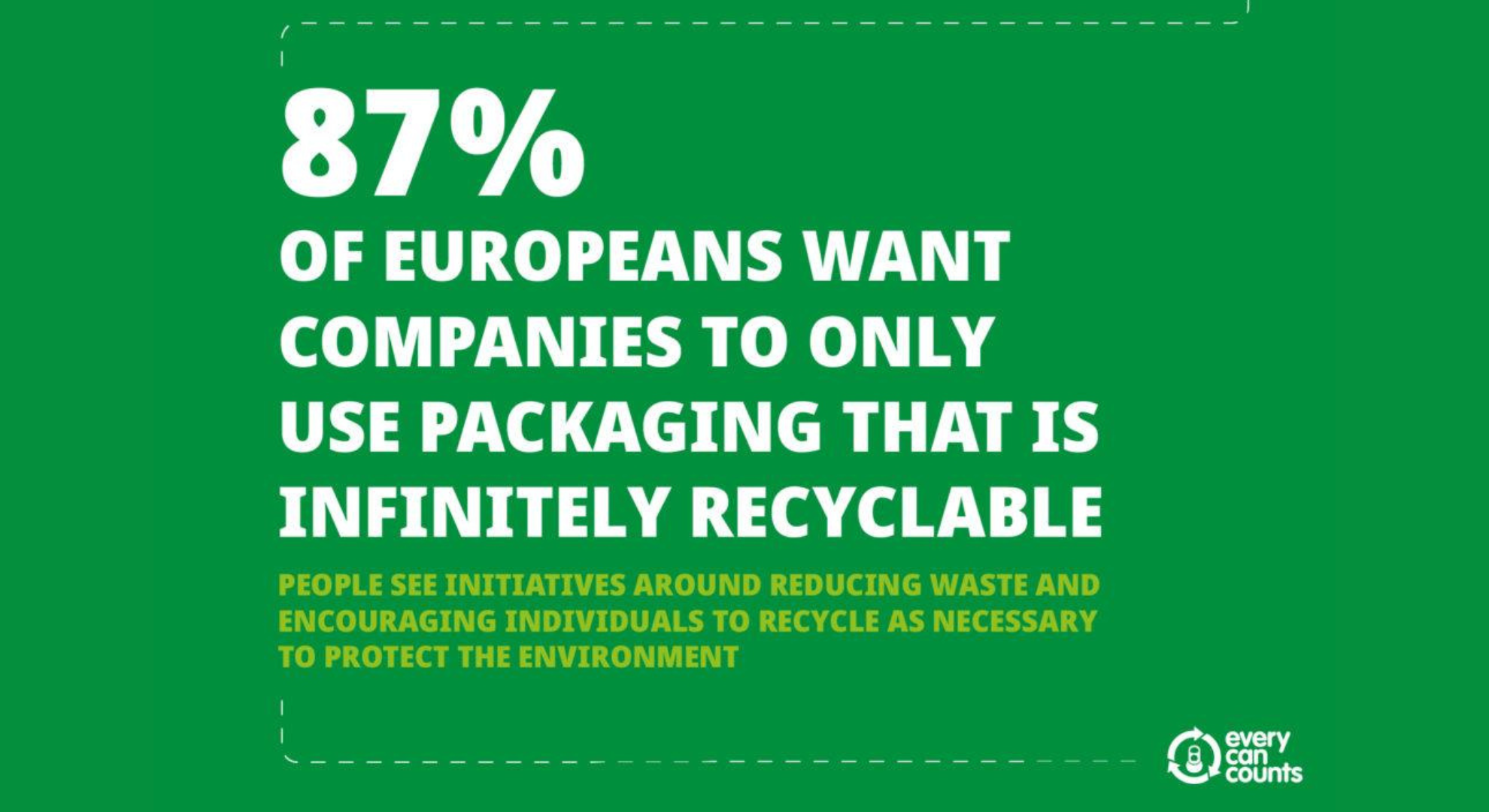 Wednesday, October 5, 2022
The latest consumer poll results by Every Can Counts (ECC) highlight that a truly sustainable future will require close collaboration between governments and beverage brands. The Recycling Habits and Attitude in Europe 2022 survey explores current recycling habits, identifies barriers and motivations to increase recycling (particularly while out-of-home), assesses knowledge around the recycling of aluminum beverage cans and uncovers messages that connect with European consumers. 
Nearly 13,000 respondents were surveyed from 14 European countries, including Belgium, Serbia, Austria, Hungary, Greece, Romania, Poland, Czech Republic, Ireland, Netherlands, United Kingdom, Spain, Italy and France. Nine in 10 said protecting the environment and recycling is important, but the vast majority believed not enough is being done by governments and businesses to address the associated challenges. Two in three survey participants found initiatives to reduce waste and encouraging individuals to recycle as necessary tactics for protecting the environment. Nine in 10 respondents also said that companies should be held responsible for the packaging they use and that it should be fully recyclable. Consumers recognize they must play their part as well, with seven in 10 people who took the survey saying they should be held responsible for the choices they make in terms of product packaging. 
The message is clear: Recycling in Europe is not living up to its potential. Consumers need help from governments, brands, retailers and the packaging industry to do better. The top three initiatives consumers would like to see implemented to increase recycling rates are: using only 100% recyclable packaging (53%); more recycling in public areas (52%); and a deposit return program (50%).
At Crown, we are already aware of these pressing needs and have been working toward ambitious targets to accelerate the transition to a true Circular Economy. Supporting strategic initiatives like ECC is one of the ways we are promoting Optimum Circularity, one of the pillars of our Twentyby30 sustainability program. As part of our goal to recycle and reuse valuable resources and minimize waste, we recently announced our 2030 global recycling goals for aluminum beverage cans. In the EMEA countries we operate in, we are striving toward an 80% recycling rate by 2030.
Moving toward these targets will involve several critical steps:
Improved recycling access: Working in tandem with industry partners to help support improvements to public, on-the-go and at-home recycling access.
Education: Encouraging consumer education on the importance of recycling used beverage cans (UBCs).
Can capture: Helping fund equipment advancements to improve recycling center sorting processes and efficiencies.
Recycling policy support: Engaging industry associations and partners to influence policies that support circularity.
Transitioning to a more Circular Economy will be a journey of continuous improvement, dedication and learning. As a metal packaging manufacturer, we are committed to doing our part and staying attuned to consumer sentiment and values. We are pleased to see consumers recognize and support increased recycling as well as packaging solutions that facilitate this process. Metal packaging, with its inherent sustainability credentials, is well-positioned to respond to their demands. 
For more information about our sustainability efforts, visit crowncork.com/sustainability.