U.K. Hits Record-Breaking Beverage Can Recycling Rates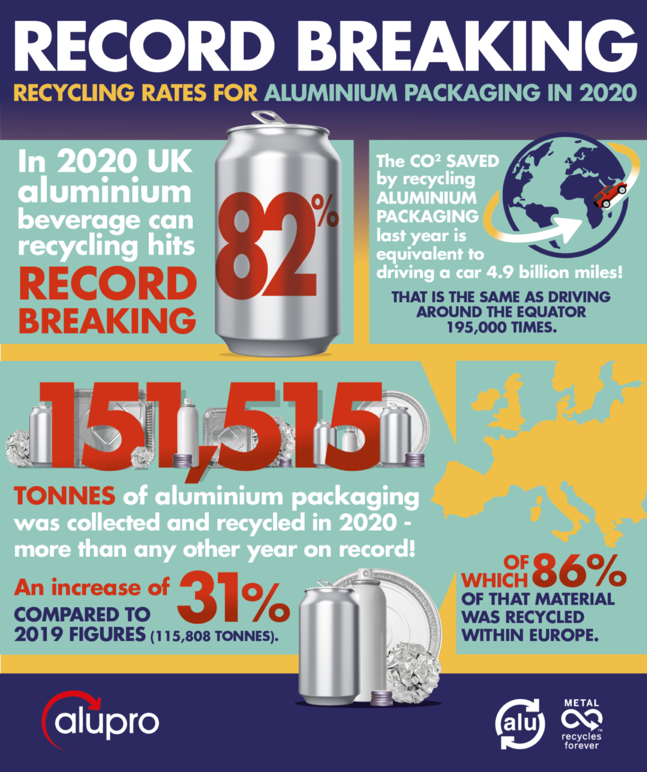 Thursday, September 2, 2021
The year 2021 has become an important year for the U.K. when it comes to taking action on climate change. In addition to hosting the 26th UN Climate Change Conference of the Parties (COP26) later this year, the U.K. government will set the world's most ambitious climate change target – to reduce emissions by 78% by 2035 compared to 1990 levels.[1]
U.K. consumers are also becoming more environmentally savvy. In 2020, recycling rates for aluminum beverage can recycling reached 82%, its highest rate ever, and a 6% year-on-year increase from 2019. According to Alupro, there is an increasing awareness among U.K. consumers about the benefits of recycling and a significant shift in their behaviors. The rise in the volume of aluminum recovered from incinerator bottom ash can also be attributed to several new companies being approved to issue Packaging Recovery Notes and the commissioning of several new U.K. energy recovery facilities.
While the U.K. government is making strides to combat climate change, several grassroots organizations are also encouraging people to prioritize sustainable choices every day. For example, Every Can Counts – a not-for-profit program supported by Crown – is striving to achieve a 100% recycling rate for beverage cans across Europe. Launched in 2009, Every Can Counts is now active in 19 countries and continues to grow. As part of its efforts, the team works to improve can recycling facilities and drive changes in consumer behavior.
In addition to our involvement with Every Can Counts, our commitment to encouraging and empowering beverage manufacturers and consumers alike to accelerate sustainability is reflected in our Twentyby30 program. Two objectives in particular focus on recycling: to raise recycling rates in our major markets and to increase the average recycled content in our products. Partnering with initiatives like Every Can Counts is one of the many steps we are taking to achieve our goals. We know that by working together across the supply chain we can ensure that as many cans as possible reach recycling facilities and enter the infinite recycling loop.