Crown Helps Nicolas Feuillatte Enthusiasts Enter "The Enchanted Land"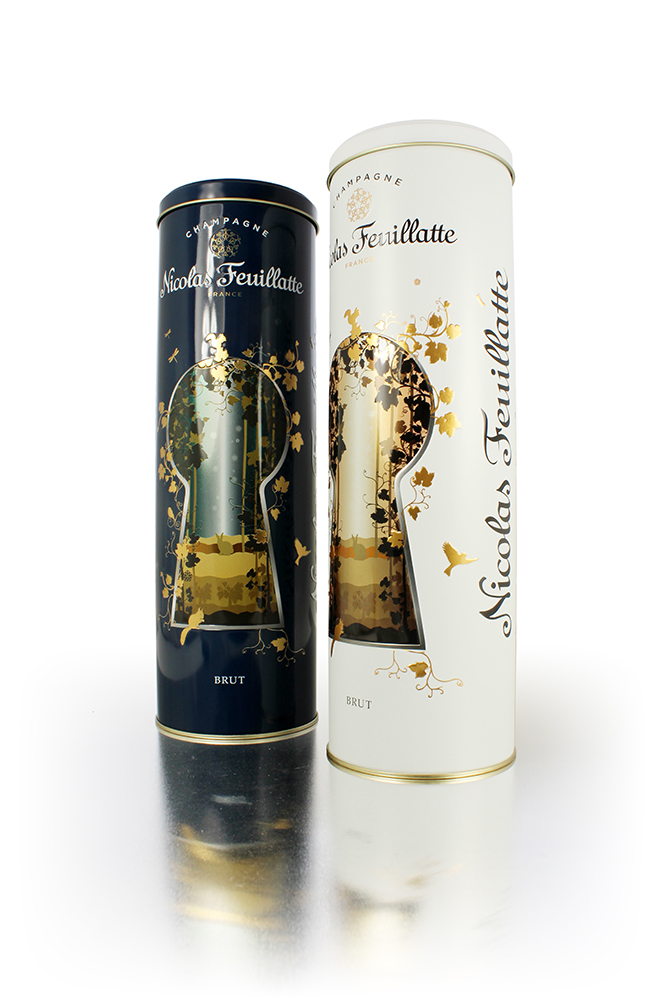 Yardley, PA – January 07, 2019 - Nicolas Feuillatte Champagne has once again turned to Crown Aerosols & Promotional Packaging when looking for the ideal packaging solutions for its latest champagne creations. A continuation of the long-standing working relationship with the famous French luxury champagne producer, Crown's elegant metal tins for the fresh and dynamic Réserve Exclusive Brut and the expressive and light Sélection Brut, invite consumers to discover the very terroir that went into the champagne's making. 
The Réserve Exclusive Brut tin has a rich blue finish, while the lighter Sélection Brut is presented in white. Both elaborate designs feature a magical keyhole window into the enchanting landscape of the Terroir Champenois, evoking the sense that the consumer is looking through a wooded glade into the open vineyards beyond. The autumnal decor of golds and ambers comes alive with the help of a combination of matte and gloss varnishes skillfully combined. Areas of embossing have also been carefully incorporated to add to the tactile feel of the tin.
Nicolas Feuillatte is a pioneer in the use of metal packaging for champagne, and a believer, like Crown, that metal provides a premium and highly protective packaging format. Available in a wide range of shapes and sizes, metal packaging facilitates the use of numerous decorative finishes that help differentiate brands at point of sale and encourage consumers to continue buying their favorite brand. Metal packaging also delivers exemplary sustainable credentials. Many of these premium tins will be retained by customers for alternate uses, given their striking designs, but those entering the recycling process can do so without loss of properties – the metal used being 100% and infinitely recyclable. Produced by Crown at its plant in Chatillon, France, which ensures that the supply of the tins can be delivered quickly and efficiently from a logistical standpoint, the new range from Nicolas Feuillatte is certainly 'Enchantée' on many levels.
Crown's tins have been awarded Gold in the Drinks International category of the prestigious Travel Retail Awards 2018.
About Crown Holdings, Inc.
Crown Holdings, Inc., through its subsidiaries, is a leading global supplier of rigid packaging products to consumer marketing companies, as well as transit and protective packaging products, equipment and services to a broad range of end markets. World headquarters are located in Yardley, Pennsylvania. For more information, visit www.crowncork.com.
For more information, contact:
In Europe: Veronique Curulla, Marketing Director; Tel: 33 1 49 18 40 28; Email: veronique.curulla@eur.crowncork.com
In North America: Virginie Buzan, Director of Sales; Tel: (267) 847-0531; Email: virginie.buzan@crowncork.com
For editorial inquiries: Maria Ciubotaru, Associate Vice President, Finn Partners; Tel: 44 207 017 8345; Email: maria.ciubotaru@finnpartners.com