Crown Innovators Launch Round-To-Square Shaped Tin for the Luxury Market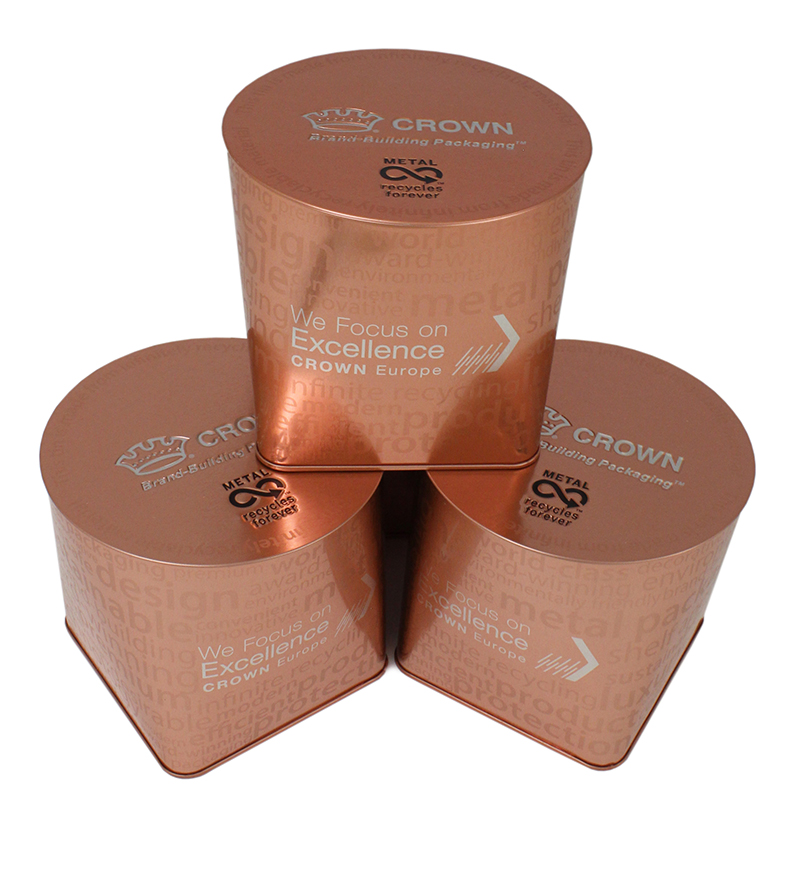 Yardley, PA – April 18, 2019.  The global luxury packaging market is growing at a rapid pace. According to a market research report from Arizton, it is anticipated to reach values of more than $21 billion by 2024, growing at a CAGR of approximately 5% between 2018 and 2024. As consumers around the world continue to demand greater choice, the need for brands to differentiate across a range of retail platforms has never been greater. Metal packaging, with its ability to promote a feeling of premium quality and refinement, is a critical component of the go-to-market strategy of many luxury brands ranging from confectionery to coffee and tea.
Crown's broad portfolio of promotional packaging includes also a unique, round-to-square container available now in 100mm height. Previously launched in a taller size specifically for the wine and spirits market, the shorter format opens up the use of this distinctive package to markets such as confectionery, biscuits, tea, and cosmetics. Square at the bottom, the tin tapers into a perfectly round opening at the top, providing strong differentiation that enables products to stand out in the busy retail environment. The flush lid further enhances the modern shape.
The uniqueness of the round-to-square container makes it a collectible item before a decorative finish has even been applied. A wide variety of finishes, inks, varnishes, and effects are available, from crackle, matt, and gloss to soft touch, perforations, and detailed embossing. Crown's in-house design team ensure all visions are brought to life in metal, offering everything from packaging design and artwork services to proofing and specialist advice on materials, colours, effects, and samples. 
In addition to differentiation, the tin offers all the benefits that come with being made from a 100% recyclable and infinitely recyclable material. Incredibly, between 80% and 90% of all steel ever produced is still in use today. Its physical properties remain intact after recycling, unlike other materials that are downgraded to less demanding uses. A metal container recycled today could be available on a retail platform in a similar form in a short time, although it is highly likely that once bought, the round-to-square tins will remain with the purchaser for some considerable time thereafter.
About Crown Holdings, Inc.
Crown Holdings, Inc., through its subsidiaries, is a leading global supplier of rigid packaging products to consumer marketing companies, as well as transit and protective packaging products, equipment and services to a broad range of end markets. World headquarters are located in Yardley, Pennsylvania. For more information, visit www.crowncork.com.
For more information, contact: 
In Europe: Sarah D'Amato, NPD & Marketing Services Manager; Tel: 33 1 49 18 40 28; Email: Sarah.DAMATO@eur.crowncork.com; Tel: +33 1 49 18 40 59
In North America: Virginie Buzan, Director of Sales; Tel: (267) 847-0531; Email: virginie.buzan@crowncork.com
For editorial inquiries: Maria Ciubotaru, Associate Vice President, Finn Partners; Tel: + 44 207 017 8345; Email: maria.ciubotaru@finnpartners.com