Crown "Leeds by Example"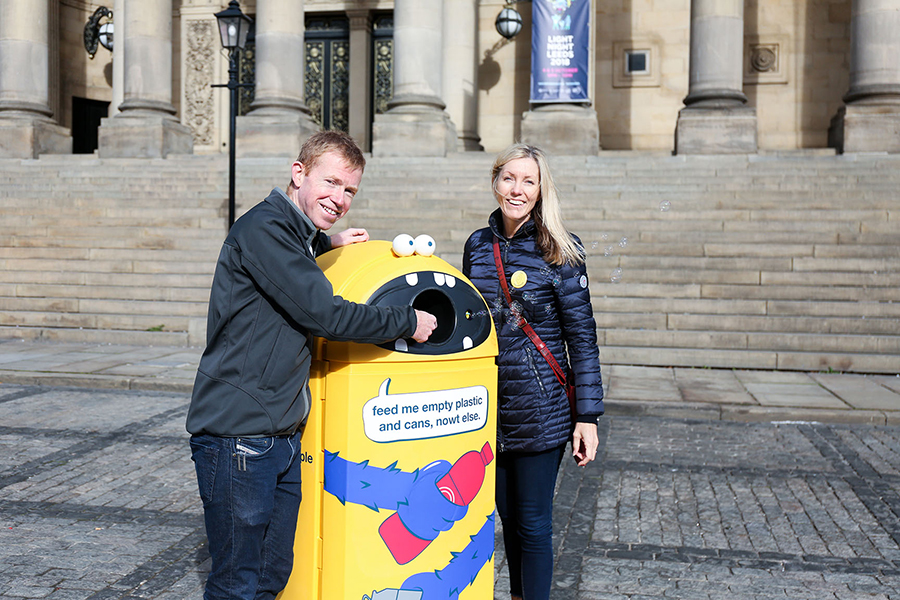 Wednesday, March 20, 2019
Yardley, PA – March 20, 2019. As a producer of metal packaging, Crown Bevcan Europe & Middle East is acutely aware of its responsibility to ensure as much of its product remains within the circular economy as possible. In the U.K., for example, some nine billion canned drinks are consumed each year – 30% of which are enjoyed on-the-go. However, only 42% of local authorities provide recycling bins in public spaces – a figure that Crown is committed to help increase.

As a major producer of beverage cans for the U.K. market, Crown is dedicated to ensuring it facilitates and encourages the recycling of as much of that packaging as possible. In addition to supporting a wide range of initiatives – such as the Every Can Counts programme and the Metal Recycles Forever mark – Crown purchases Packaging Recovery Notes (PRNs) to comply with U.K. packaging waste regulations, the proceeds going towards the recycling infrastructure.
Crown recently partnered with Ecosurety to support the "Leeds by Example" initiative in Leeds, U.K., run by the environmental behaviour change charity, Hubbub. The organization's research showed that the city did not provide on-the-go recycling options for food and beverage packaging. As a consequence, the amount of food and drink packaging placed into general waste bins on the streets of Leeds city centre could fill a 20-foot shipping container every three days.

As part of the project, a recycling network was set up and along with 35 new on-street recycling bins, the Leeds community also saw initiatives such as:
Recycle reward machines which yield discounts at participating retailers when recycling cans, bottles or coffee cups;
A We Recycle app which will allow consumers to scan the barcode on food and drink packaging to learn if it can be recycled and where the nearest recycling point is;
The Re-Cycler cargo bike where recycling can be traded for rewards;
Bubble bins that blow bubbles and "burp" when cans or plastic bottles are deposited.
Elaine Barrett, Environmental Manager at Crown Packaging Europe, said: "This is the second initiative we have worked on with Ecosurety and we are very excited to be able to see the direct impact our PRN funding is having. In 2017, we supported an education project with TATA Steel, where the company visited our aerosol plant in Nottinghamshire and held recycling workshops with local children. We see the 'Leeds by Example' project as a fantastic continuation of our work in this vital area. We are certain the project will have a tangible impact on recycling habits in the city and, importantly, the data gathered from the project will be used to roll out similar initiatives in other towns and cities around the U.K."


For more information, visit: https://ecosurety.com/impact/education/leedsbyexample/
About Crown Holdings, Inc. 
Crown Holdings, Inc., through its subsidiaries, is a leading global supplier of rigid packaging products to consumer marketing companies, as well as transit and protective packaging products, equipment and services to a broad range of end markets. World headquarters are located in Yardley, Pennsylvania. For more information, visit www.crowncork.com. 
For more information, contact:
In Europe: Veronique Curulla, Marketing & Business Development Director, Crown Bevcan Europe & Middle East; Tel: 33 1 49 18 40 28; Email: Veronique.Curulla@eur.crowncork.com 
In the United States: Ron Skotleski, Director of Marketing, North America, Crown Beverage Packaging; Tel: (215) 718-1303; Email: Ron.Skotleski@crowncork.com 
In South America: Fabio Braido, Commercial Coordinator Crown Embalagens Metalicas da Amazonia S.A.; Tel:  55 11 4529-1081; Email: Fabio.Braido@crowncork.com.br   
In Mexico: Ramiro Barney, Commercial Director, Crown Beverage Packaging Mexico; Tel: 52 (722) 275 5810; Email: Ramiro.Barney@famosa.com.mx 
In Asia Pacific: Frank Koh, Senior Vice President, Crown Asia Pacific Holdings Ltd; Tel: 65-622 948 28; Email: frank.koh@crowncork.com.sg
For editorial inquiries: Maria Ciubotaru, Associate Vice President, Finn Partners; Tel: 44 207 017 8345; Email: maria.ciubotaru@finnpartners.com