Socorro Bebidas Expands Its Portfolio Into Mineral Water Using Crown's Sustainable Packaging Alternative
Established Brazilian beverage company chooses metal packaging for its category debut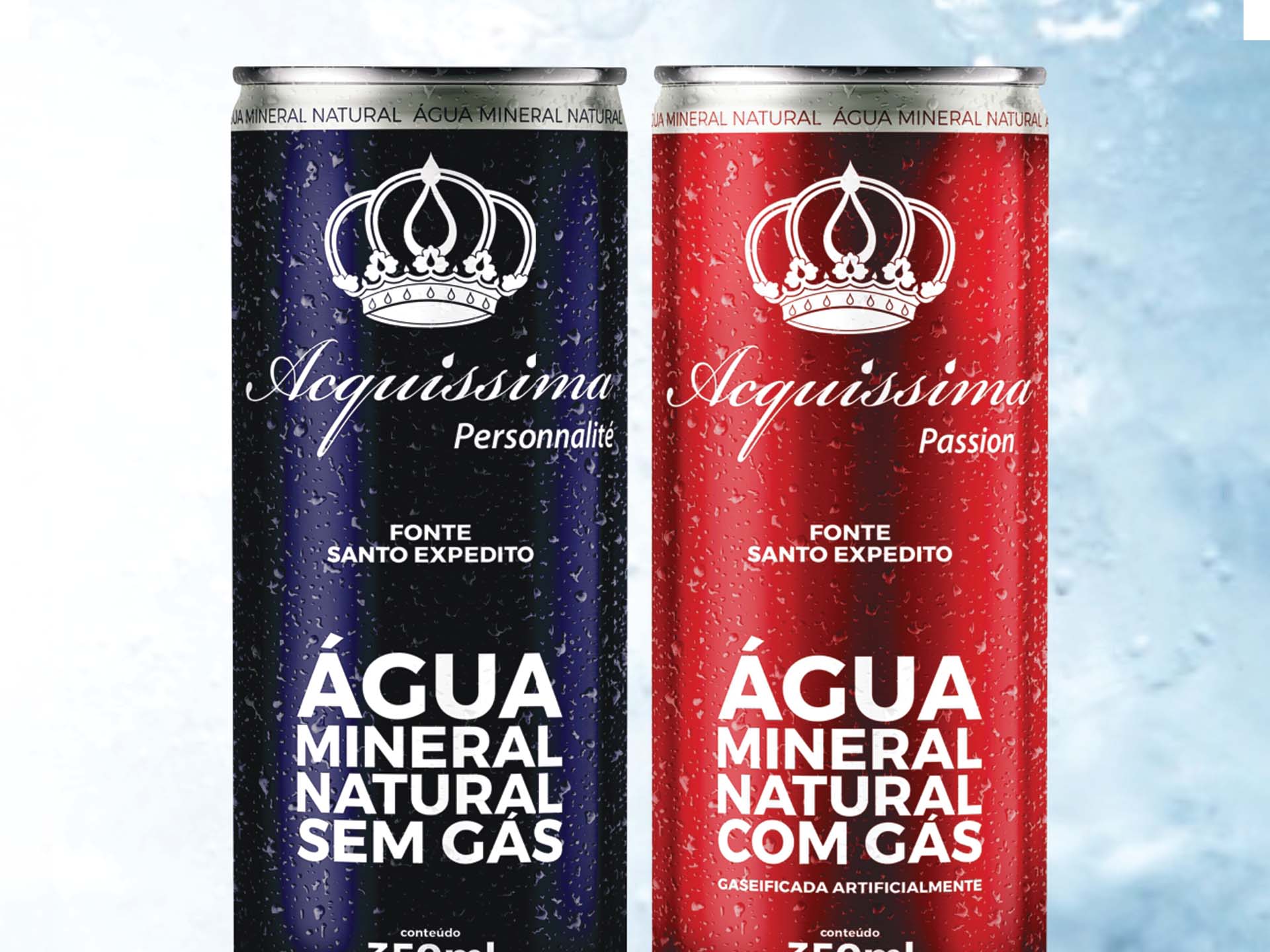 Wednesday, August 3, 2022
Yardley, PA – August 3, 2022. Crown Embalagens Metálicas da Amazônia S.A., a subsidiary of Crown Holdings, Inc. (NYSE: CCK) (Crown) (www.crowncork.com), has partnered with Brazilian beverage producer, Socorro Bebidas (Socorro), to extend its line of mineral water to include infinitely recyclable beverage cans. The brand, Acquíssima, is currently available in supermarkets across Brazil in two SKUs: Personnalité (natural mineral water) and Passion (carbonated mineral water). Both are now available in 355ml (12oz.) sleek cans to support a premium, modern image.
Over the last decade, still packaged water consumption per capita in Brazil has increased by 105% and continues to take market share from tap and bulk water. This growth in demand for packaged water has presented local beverage producers with an opportunity to diversify their brand portfolios and many are exploring how to bring these products to market while also supporting sustainability. This was particularly important to Socorro, as the brand has a robust social responsibility program in place.
Beverage cans have multiple inherent sustainability benefits, including providing a powerful barrier against light and oxygen, which will keep the water in the same fresh condition as when it was canned. In addition to its functional benefits, aluminum cans are 100% and infinitely recyclable, making them a perfect example of the Circular Economy at work. While Brazil already enjoys a high recycling rate for aluminum cans – consistently over 95% – the country recently joined Every Can Counts initiative to advance recycling even further. The regional campaign, called Cada Lata Conta (Portuguese for "Every Can Counts) and led by Abralatas, will utilize public education and other activities to transform the way consumers think about recycling beverage cans.
"We have enjoyed a long relationship with Crown, having worked together to package several of our other products," said Maurício Cruz, Commercial Director of Soccoro. "When it was time to determine the best format for the Acquíssima brand, they were a natural resource. This is entry into the water market, and the Crown team provided the guidance and knowledge our team needed. Beverage cans offer the convenience, durability and recyclability that are priorities for our brand and our customers and enhance the quality and appearance of our products."  
The sleek cans also include a matte varnish, adding a touch of elegance to the package and helping it stand out on store shelves. The matte varnish was applied to the full body of the can to help boost a premium look and feel to attract consumer attention. 
"We are thrilled to help Socorro launch the Acquíssima brand," added Altair Frulane, Commercial Director of Crown. "Beverage cans are an ideal format for water brands thanks to their sustainability credentials, portability and ability to keep the product colder for longer periods of time."  
About Crown Holdings, Inc. 

Crown Holdings, Inc., through its subsidiaries, is a leading global supplier of rigid packaging products to consumer marketing companies, as well as transit and protective packaging products, equipment and services to a broad range of end markets. World headquarters are located in Yardley, Pennsylvania. For more information, visit www.crowncork.com. 
For more information, contact: 
In South America: Fabio Braido, Commercial Manager, Crown Embalagens Metalicas da Amazonia S.A.; Tel:  +55 11 4529-1081; Email: Fabio.Braido@crowncork.com.br 
In the United States: Jon Beam, Director of Marketing, Crown Beverage Packaging North America; Tel: +1 (215) 698-5248; Email: jonathan.beam@crowncork.com
In Europe: Veronique Curulla, Marketing & Business Development Director, Crown Bevcan Europe & Middle East; Tel: +33 1 49 18 40 28; Email: Veronique.Curulla@eur.crowncork.com 
In Mexico: Héctor Rodríguez, Commercial Director, Crown Beverage Packaging Mexico; Tel: +52 (81) 83 28 66 00, Ext. 6658; Email: hector.rodriguez@crowncork.com.mx 
For editorial inquiries: Julie Tzivas, Account Executive, FINN Partners; Tel: +1 (212) 583 – 2743; Email: julie.tzivas@finnpartners.com